APPLICATIONS OPEN FOR 2022 ULI HINES STUDENT COMPETITION – EUROPE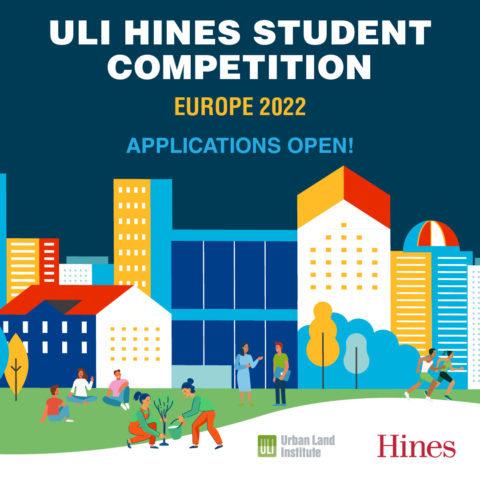 ULI and Hines, the international real estate firm, have launched the 2022 ULI Hines Student Competition – Europe with a call for entries. This third annual team challenge for universities and business schools across Europe will test students' skills in applying their knowledge of all aspects of real estate and land-use in a practical and challenging exercise. Applications are now open, and the deadline for submissions is 16 February 2022.
The ULI Hines Student Competition – Europe offers eligible students the opportunity to form multidisciplinary teams and engage in a challenging exercise in responsible land use.
Working in teams of four, students are set the task of working on a challenge which tests their understanding of the core elements of real estate finance, planning and development, as well as social and environmental issues that impact decisions around land-use and sustainable development.
The 2022 winning team members will receive:
a fast-track to the Hines internship programme;
a guided tour of a live development project and participation in project meetings in Hines European offices (as travel restrictions allow);
a one-year ULI membership providing access to research content, events, webinars, education and mentorship programmes, knowledge sharing and connections with a multidisciplinary global network of real estate and land use professionals; and,
complimentary access to tailored in-person opportunities within the ULI programmes, depending on location and interest.
How the Competition Works
The first stage of the competition requires teams to submit a pre-qualification questionnaire, details about each team member and a brief video. The deadline for submission is 16 February 2022.
Submissions will be reviewed by the ULI, Hines and a group of senior industry professionals, with a maximum of eight teams selected for the final stage in May. ULI will alert all teams of their status by early April.
The competition will take place on Tuesday, 24 May 2022 in a hybrid format. Members of the same team are encouraged to gather in their university or convenient venue to work together on the day. Speaker presentations, mentoring, presentations to the jury and judging process will be held online via a virtual competition platform.
On 24 May, the student teams will be briefed on the case study, and each team will work on it for the full day before presenting their solution to a jury of senior industry professionals. The day will close with the winners' announcement and virtual drinks.